StupidEye
What's the potential of a matchbox?
It can make fire!
In order to make fire you need to make the effort of striking the matchstick.
The wind blows it out!
You light another stick making sure you take cover.
The match is lit!
You use it to light a candle to spread light….
You use it to light your smoke….
You use it to set someone else's house on fire……
You use it to cook food….
All this from one matchbox!
Similarly, every individual has a potential………….
Stupid Eye aims at exploring that true potential in every individual………
How one uses that potential is their call!

Stupid Eye is based on the premise that with a better understanding of one's true self, one is better equipped to realize one's actual potential. Stupid
Eye is a culmination of Photography with Psychological Therapeutic techniques to enhance an individual's insight into their SELF. We are glad to
announce that after receiving world-wide recognition by being published at the World Mental Health Congress 2013, the Stupid Eye Research is now
due to be presented at the 28th International Congress of Applied Psychology in Paris in July 2014., and the 7th World Congress of Psychotherapy in
Durban, South Africa in August 2014.
---
Event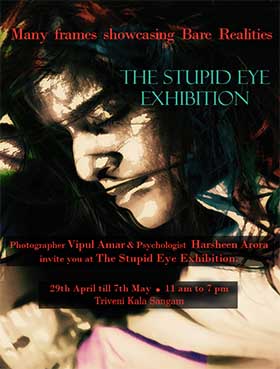 Triveni Kala Sangam
The Stupid Eye exhibition at
Triveni Kala Sangam
Shridharni Gallery,
205, Tansen Marg,
New Delhi India
from
April 29 - May 07, 2014
11 am to 7 pm.
No entry fee.